Instalments with Splitit
Our new partner Splitit enables interest-free payment in instalments at 11 Degrees. Benefit from this offer and get your favourite items, splitting the payment into little portions. All you need to get started is a valid VISA or Mastercard credit card.
How it works


Step 1

Bag your favourite items and head to the check-out

Step 2

Select Splitit as your payment method

Step 3

Set your preferred installments and complete your order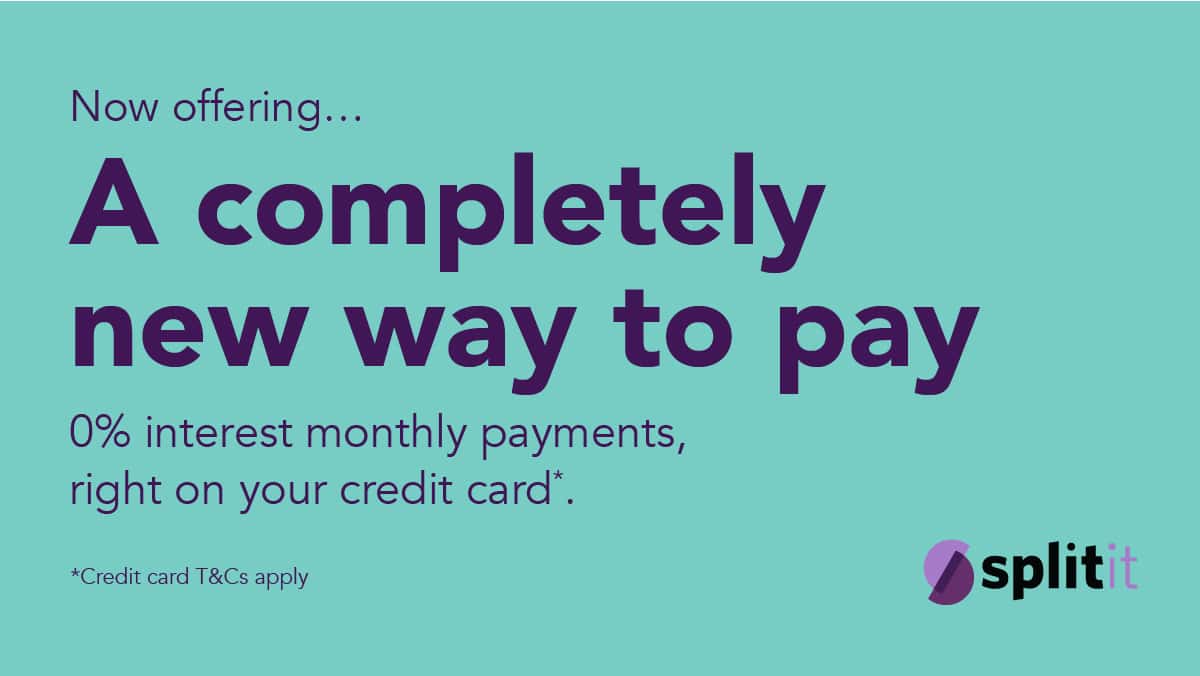 Splitit's benefits
No interest or fees
» Pay with ease over time.
No applications
» You use your existing credit card and don't have to apply for a new service.
No credit checks
» All you need is the balance available on your credit card.
Manage your payments
After your order has been processed, you can check your installments in your Splitit account. Your account also lets you pay early or change your personal or credit card data.
Log into Splitit
Frequently Asked Questions
Please visit our support centre. Please note the support centre might not be available in your language. Your browser will probably ask you if the text should be translated, please use this function while we get the text translated professionally.
No, unfortunately not. We are only able to accept credit cards at the present time.
We are currently partner with Visa, Mastercard, Discover and Union Pay credit cards.
Yes. Splitit helps consumers use their existing credit card to turn purchases into smaller, monthly payments. The full amount of your purchase is authorized (held) on your credit card to guarantee future payments so you need to have at least that amount in available credit on your card. The authorization amount reduces with each monthly payment you make until the balance is cleared and we renew these authorizations periodically. The previous authorization is removed as soon as we receive a new one.
Issues with your order are handled by the merchant or retailer you purchased from. If you have not yet received your order please speak to the merchant or retailer direct. Payments on your plan will continue until the merchant or retailer advises us otherwise.
Simply follow the returns instructions on the merchant or retailers website, making sure that you pay attention to their Returns Policy. You don't need to let us know that you're returning something as the merchant or retailer will tell us. Once we've had confirmation from the merchant or retailer that they've refunded you, we'll handle the rest and update you via email on behalf of the merchant or retailer once your instalment plan has been cancelled or adjusted (whichever is appropriate). Payments on your plan will continue until the merchant or retailer advises us otherwise.
Order issues are handled by the retailer you purchased from and Splitit has no authority to approve a cancellation or return if something is wrong. If there's a problem with an order that you bought using Splitit, please speak to the retailer direct. Payments on your plan will continue until the retailer advises us otherwise.
You don't need to do anything as your merchant or retailer will take payments each month from your chosen card. Your chosen card will be charged for the first installment straight away. At the same time, an authorization (hold) will be taken for the full outstanding balance to guarantee your plan. Authorizations for the full outstanding amount of your plan are renewed every 17-21 days or so and reduce with each installment payment made. The previous authorisation is automatically removed as soon as a new one is obtained. These authorizations may be charged to clear your plan early, if your plan is not kept up to date. We'll update you on behalf of the merchant or retailer, be keep you posted when monthly installment payments are due/processed and before we attempt to take any authorizations.